About Us
Longdrivegolfshafts.com is the brainchild of two lifelong friends, the 2010 Senior Long Drive Champion George "The Animal" Slupski and master club builder Larry Brink.
George "The Animal" Slupski's Bio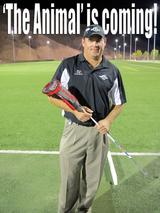 George is recognized as one of the premier Long Drivers in the world. Here are some of the many highlights of his career.
2010 RE/MAX Senior World Long Drive Champion
Senior Long Drive world record holder with a 405 yard long drive.
20 time World Long Drive finalist
Top 10 All-Time money leaders (World Long Drive Finals)
1 of 6 Long Drive competitors to reach the finals every year since RE/MAX has been the major sponsor (15 years)
Winner of over 15 Professional Long Drive events
3 time winner of USA vs. Canada Long Drive Challenge
His longest competitive drive was a massive 437 yards, and his competitive average is 360 yards
Larry Brink has been a club builder for over 20 years and is the personal club builder for George "The Animal" Slupski and other top Long Drive Professionals.
After competing for a couple of years and being around Long Drivers, Larry realized that the amount of money that it takes to compete can sometimes get out of hand. That's when Larry and George decided that it was time to team up and create Longdrivegolfshafts.com. They have vowed to do everything they can to keep their golf shafts and custom club building affordable for competitors and regular golfers alike. In doing this they hope that it will allow for the sport of Long Driving to grow.
On a personal note, Larry would like to say, "I've been around Long Drivers for over 20 years and these guys are some of the best athletes on the planet. The time and commitment these people put into their craft is incredible. I personally want to invite everyone, golfers and non golfers alike, to go out to a Long Drive event to support this amazing sport. You can find events all over the country at the Long Drivers of America website. I promise you will get caught up in the excitement and meet some great people too."